Finding "The" Dress-Advice for the Plus size Bride
Big and I are engaged and disgustingly cute in love, or at least everyone says we are disgustingly cute, we've been watching weddings shows, interviewing bakers, booking the venue and soon very soon I'm going to be buying "the dress". A dress so show stopping, so unbelievably gorgeous that it can only ever be worn once.
That's right ladies it's time for me to pick a wedding dress. Now, as fashion forward as I may be in my every day life, I'm envisioning an elegant affair to remember, something timeless something that will make me look like greta garbo (only shorter of course, and Mexican lol)
A few things about shopping for plus size gowns:
1.) Bridal will tend to run smaller than street clothes, Davids Bridal is actually pretty forgiving when it comes to sizing however and their quality for the price is pretty good,
2.) Remember if you're short (like me) remember that you want to wear the dress, you don't want the dress to wear YOU.
3.) Consider your shape, are you apple? (Like me with a tummy) or pear, or diamond or square on top? Let the consultant know which areas you are self conscious about so she can try to find the right fit, if you fall in love with a strapless dress but hate your arms ask to see a wrap or if sleeves can be added.
4.) If you are on the higher end of plus size (again like me, I'm a 28 for now) call ahead and ask what the salon carries in terms of sample in store, clips will only go so far on a dress 5 sizes too small, you don't want what should be a wonderful experience turning into a sob fest when nothing fits.
5.) DO NOT let your size stand in the way of getting your perfect dress. Every woman deserves to feel beautiful on her day, never settle, you didn't settle for your mate, no need to settle on the dress.
I've found some winners everything from reasonably priced to outlandish extravagance, so here's a little taste of my new obsession:
Igigi's collection of wedding dresses is to die for and beyond reasonable this one part of a limited collection is around $500.
This dress had been my dream dress since before I got engaged, it was available in my size every year that I was NOT engaged and now sadly it's no longer available in my size, however if you're a 14/16 you definitely should check it out on igigi.com About $375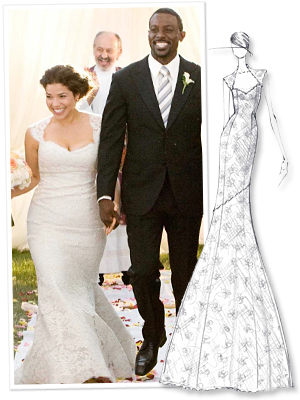 The incredibly talented Monique Lhuillier created this custom made dress for America Ferrara in the movie "Our family wedding" I cannot wait to get back to the gym so I can look like this on W day! She is so incredibly gorgeous! Price upon request.
This is from Laylan Heck on Pinterst, an event planner who pinned this amazing pic of a beautiful plus bride who look amazing from head to toe.
Alfred Angelo- available up to size 26 about $600
If you find yourself desiring designer but your pocket book isn't familiar with Benjamins, try consignment shops here in Oregon there is Shabby Chic Bridal in Salem (i'm going there first!)
Also online there are tons of website with bride's reselling their gowns to recoup money from the wedding. There are even some that have never been worn, people often change their wind about the type and style of dress they like, often times seeing something online, purchasing and then deciding to go a different decoration. Make sure to check our recyclebride.com for used gowns, accessories and other reusable things.